In the unspoilt nature... a flower of Chalet!
Chalet Rosita is a flower of Chalet, we could call it a flower among flowers: a wonderful combination of total immersion in Livigno's unspoilt nature and, at the same time, convenient proximity to all services..

The Chalet is in a truly optimal location, surrounded by green meadows during the summer, and by soft snowy expanses in winter: whenever you decide to stay, you will find yourself in a very sunny area surrounded by a picture-postcard landscape that will let you breathe in the peace of the mountains! Only 200 m from the Chalet, then, you will have free buses, and the center of the village can be reached in only 5 minutes by car. The cycle track, cross country skiing track and ski lifts are also very close.
Great Chalet
We all would like to thank you for your warm welcoming and hospitality. We had a wonderfull week at your home. Also congratulations to your parents, they are very friendly and helpfull. The appartment was very clean and fully equipped.
Johan
Timo
This flat is suitable for a group of 4/6 people, whether friends or a family on holiday in Livigno: you know, in company everything takes on a different flavour.
Details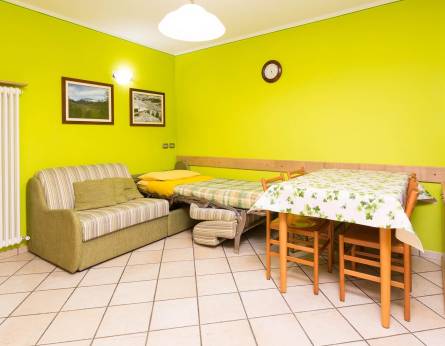 Livia
Perfect for a family of 4, it will give you a holiday away from everyday stress.
Details
Our proposals for an intimate, serene, and cheerful atmosphere.
Arnica
It's a lovely two-room apartment suitable for 2 or 3 people: treat yourself to a break next to your favorite people.
Details
Perfect holiday
We had a great time at Chalet Rosita. Very nice rooms, clean and comfortable. The host Rosita was pleasant with communication. I would recommend this place to everyone!
Martynas
A stay at the top
Our offers
Family Week at Chalet Rosita
The perfect opportunity to book a holiday in Livigno in the company of your family, and above all to do it at an advantageous price.
Details
Aquagranda: sport, relaxation and lots of fun!
Livigno is sport, relaxation and fun! We know a place where all this is packed into a concentration of services designed just for you: Aquagranda.
Details
Chalet Rosita is... Skipass Free!
Book a stay at Chalet Rosita for at least 7 nights and get a free ski pass.
Details
Experience a holiday to remember!
Summer in Livigno
Little Tibet is a concentration of emotions and opportunities, including nature, sport, relaxation and food and wine experiences: a full immersion in well-being.
Details
Winter in Livigno
Snow, sun and lots of activities and proposals: a true paradise for sportsmen! But not only that, Livigno is also the right destination for those seeking a relaxing break.
Details
Good location
Very spacious suite, clean, good accesibility to city centre, to ski resorts, to cross country trails. Possibilities for ice skating, running, freeride. Also good for high-mountains preparation.
Jozef